UPCOMING CHAPTER MEETINGS
Tuesday, July 12, 2022 *Cybersecurity TTX*
Metro Foothills Healthcare Coalition Chapter Meeting
1:00pm – 3:00pm
Location: Virtual Meeting  – Contact mdeland@ncrhcc.org for additional information
Tuesday, May 24, 2022
North Central Region Healthcare Coalition Governance Board Meeting
Time: 1:30pm – 3:30pm
Location: Virtual Meeting  – Contact mdeland@ncrhcc.org for additional information
Friday, July 22, 2022
Boulder HAMR Healthcare Coalition Chapter Meeting
Time: 7:00am – 8:30am
Location: Virtual Meeting – Contact mdeland@ncrhcc.org for additional information
Tuesday, July 12, 2022
Tri-County Healthcare Coalition Chapter Meeting
Time: 10:00am – 11:00am
Location: Virtual – Contact mdeland@ncrhcc.org for additional information
UPCOMING HEALTHCARE COALITION EVENTS
Special Pathogens Safety Awareness Training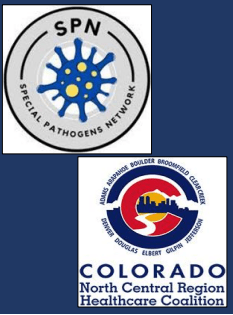 Date: May 26, 2022
Time: 8:30am – 11:30am
Location: Adams County Government Conference Center – Brighton, CO
Registration Link (space is LIMITED): SPN Special Pathogens Safety Awareness Training
The Colorado Special Pathogens Network (SPN) is offering a FREE course on infection prevention and special pathogens.
Subject: Evidence-based best practices for staff and patient safety when caring for patients with highly infectious diseases. AKA, how to not catch COVID and other things that could potentially kill you!
Target Audience: Bedside staff, support and ancillary staff, leaders, trainers, educators, anyone who uses PPE, anyone feeling nervous, anyone who wants CE credit, or wants to talk current data, special bugs, etc. In short, anyone!
Duration: 3 hours. 1-hour presentation, 1.5 hours hands-on demonstration and teach back, 30 minutes hot wash/debrief.
2022 NCR HCC Ancillary Healthcare Emergency Preparedness Summit
***Registration is LIVE***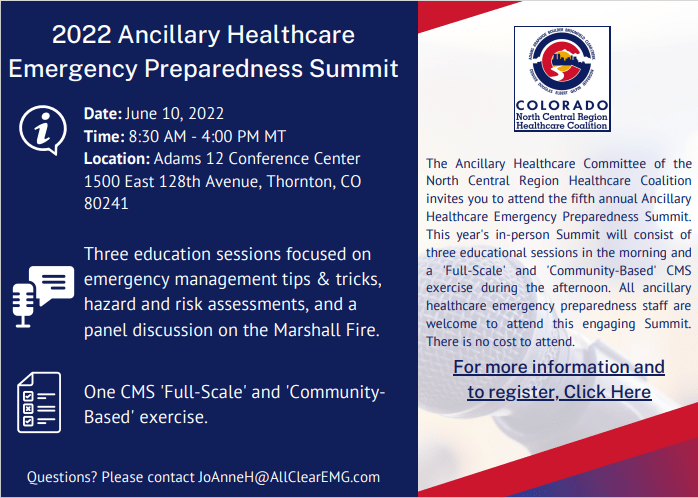 2022 Ancillary Healthcare Emergency Preparedness Summit  
Date: June 10, 2022
Location: Adams 12 School Building
Details:
This event will include educations sessions focused on emergency management tips and tricks, hazard and risk assessments, and a panel discussion on the Marshall Fire
In the afternoon, attendees will participate in a CMS-compliant operational and community-based exercise
Registration LINK: 2022 North Central Region Ancillary Healthcare Emergency Preparedness Summit Registration
UPCOMING NORTH CENTRAL REGION EVENTS
ADDITIONAL TRAINING AND EXERCISE OPPORTUNITIES